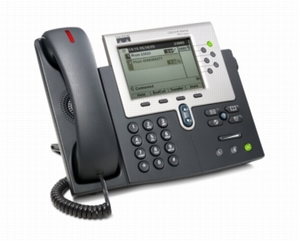 WHICH CISCO IP PHONE MODEL IS RIGHT FOR YOU?
With such a wide array of Cisco IP phones from which to choose, the list of available options can seem pretty daunting.
To make the selection process easier, we've compiled a list of five leading Cisco IP phone models that we advise exploring further, based on the feedback we've been getting from our customers:
Cisco IP Phone 8811 (CP-8811)
Ideal for: Active usage in small to large enterprises
Key features: The CP-8811 offers wideband audio—or high-definition—voice quality for great-sounding calls, as well as data encryption for enhanced security purposes. With a 5-inch-wide 800×480 backlit grayscale display, as well as support for up to five programmable keys, the phone is easy to navigate, too. What's more, the phone is backed by Cisco's "always on" feature for maximum uptime and reliability, localized language support with right-to-left text, and a built-in Gigabit Ethernet switch for ultrafast connectivity. Further, if you're trying to go green, you'll love the fact that the CP-8811 supports Cisco's EnergyWise technology, and that it meets Energy Star qualifications. To top it off, the phone is wall-mountable.
Cisco IP Phone 8851 (CP-8851)
Ideal for: Active usage in small to large enterprises
Key features: The CP-7281 features two lines, a built-in speakerphone, standard wideband audio and a 3-inch wide 380×106 grayscale display. One nice feature about this phone is that it supports both Power Over Ethernet (PoE) Class 1 and Cisco EnergyWise, which means it's cost-efficient and environmentally friendly. It also allows for greater deployment flexibility, as it can be integrated with both hosted and on-premises call control platforms. Furthermore, the phone's IEEE 10/100 Ethernet switch reduces installation costs.
Cisco IP Phone 7841 (CP-7841)
Ideal for: Active usage in midsized to large enterprises
Key features: The CP-7841 features a slimmed-down grayscale display of 384×106 pixels, which measures slightly over three inches. The small, compact screen size is ideal for businesses seeking a feature-rich conference phone and also a simple interface. In addition to PoE and EnergyWise qualifications, wall-mounting capabilities and an integrated IEEE 10/100/1000 switch, the CP-7841 also comes with access to the Cisco Expressway for remote single sign-on, as well as on-premises and hosted call control options.
Cisco Unified IP Conference Phone 8831 (CP-8831)
Ideal for: Conference rooms and executive offices in small to large enterprises
Key features: Conference rooms and executive offices warrant additional communications features that are typically offered in standard office IP phone systems—for example, heightened security, privacy and management capabilities. The CP-8831 is an executive collaboration device capable of meeting such needs through its 128K Advanced Encryption Standard (AES), as well as its multiple configuration and management and deployment options. This dynamic phone is ideal in both small office settings and conference rooms measuring up to 1,140 square feet. It's available as either an on-premises or hosted model and comes with full-duplex, two-way wideband acoustic audio speakers for top-of-the-line call quality. The CP-8831 is PoE-enabled, boasts up to four programmable soft keys and can support both wireless and wired microphones.
So, which model will you choose? If you still can't decide, don't hesitate to reach out to us for advice! We're batty about IP Phones, and would love to walk you through the selection process.