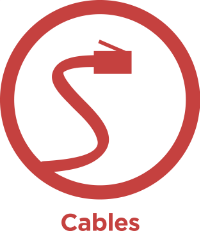 In order to compete in today's marketplace, you need to ensure that your infrastructure performs at its highest levels. You've already invested a tremendous amount of time and energy into building a fast, reliable network, so why cut corners when it comes to cabling?
Experience a Crazy Cabling Advantage:
Top notch performance – Components that underperform or fail are costing your business serious profits. Not all cables are created equal! All of our cables are designed to not only meet—but to exceed—your loss budgets in order to ensure that they work every single time that you plug them in.
Quality is key – Networks are housed in different environments, but that should never affect the performance of your cables. Whatever your budget may be, we carry a large selection of cables that are built to last.
No warranty worries – All of our cables come with a Lifetime Advanced Replacement Warranty. If something goes wrong, you will get a replacement right away.  No questions asked!
Variety at every corner – We have a great inventory of products to fit your needs. Whether you're looking for fiber, copper, cross over cable, bulk, Cisco equivalent cable—or any combination in between—we've got you covered. We can even customize cables to meet your requirements.
An eye towards the future – Future proofing is important when investing in infrastructure and we can help. From Cat 6 to 10, 40, or 100 Gig Aqua, we have the inventory to get you through any future updates or upgrades.

The Network Craze Advantage:
At Network Craze, we're as crazy (I mean, as passionate!) about your network as you are. We understand that only you know what's best for your network, your budget and your business. With that in mind, we deliver quality products that your network, your budget and your business need, not the latest and greatest products that the manufacturers feel you need. By doing so, we allow you to extend the life of your current IT hardware, while at the same time, helping you stretch your budgets, receive fast delivery, benefit from a Lifetime Warranty in most new and pre-owned products and have access to expert sales and support teams. By offering all the top manufacturers in the industry, we are a one-stop shop for all of your data and voice technology, cabling and storage needs.

My Customer forgot to order copper & fiber cables to complete an install that was happening that evening.  We ended up flying someone from Syracuse to NYC to deliver the cables and ensure that the customers install was completed on time – We care about your projects just as much as you do.
-Chris Marra, Account Executive