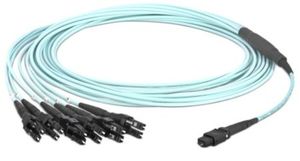 TOP WAYS TO SAVE MONEY WHEN MIGRATING TO 40-GBPS ETHERNET
Right now you may be considering migrating your network to 40-Gbps Ethernet, largely to support your increased virtualization and cloud computing demands. These are two strategies that could help to increase network efficiencies and save your business money.
Here's the catch, though: If you're not careful, you could wind up spending more money than you initially bargained for when upgrading your network from 10- to 40-Gbps Ethernet, thus negating the purpose of the migration.
With this in mind, every penny counts when migrating to 40-Gbps Ethernet. Here are some ways that you can save money throughout the process:
Invest in multimode cabling
Multimode cable is a cost-effective and dynamic alternative to single-mode optical fiber. First and foremost, it comes with less capital and operational expenditures, while also allowing more data to pass through the pipeline at a single time. While the signal is generally weaker over long distances, it's great for short-distance communications as well as audio and video transmissions. Multimode fiber is also easier to install and manage, which will benefit your IT team, freeing them to focus on other important tasks.
Avoid unnecessary purchases
Did you know that you can upgrade your current 10-Gbps switches and modules to speeds of 40 Gbps without having to purchase new chassis? All you have to do is upgrade your line cards and transceivers. In fact, deploying a C-form-factor pluggable transceiver will allow your business to easily upgrade its switches from 40 Gbps to 100 Gbps when ready to do so. And certain modules support both 10- and 40-Gbps Ethernet speeds, too. So before you go out and purchase new infrastructure, and spend thousands of unnecessary dollars, check to see if you can use your existing infrastructure first.
Look for 40-Gbps-compatible SFPs
Avoid going through your manufacturer when upgrading your small-form pluggables (SFPs). The truth is that the majority of leading manufacturers—like Cisco and Avaya—outsource their SFP production to third-party providers. Instead, look for compatible SFPs that can reduce the price of your purchase by as much as 70 percent.
Consider swapping equipment for cash
Instead of purchasing new equipment, consult a refurbished network solutions provider about trading in your products. You can swap your products and get money back, which you can then use to purchase new equipment.
Buy refurbished equipment
If you're looking to buy a new switch, going through a refurbished network equipment provider is actually safer. Believe it or not, the majority of new network equipment is only spot-checked for quality purposes before it gets shipped to stores or customers. But every piece of refurbished network equipment is thoroughly inspected to ensure it's in top working order. As a result, purchasing refurbished equipment mitigates the likelihood of having to undergo costly network downtime. Plus, it's less expensive!