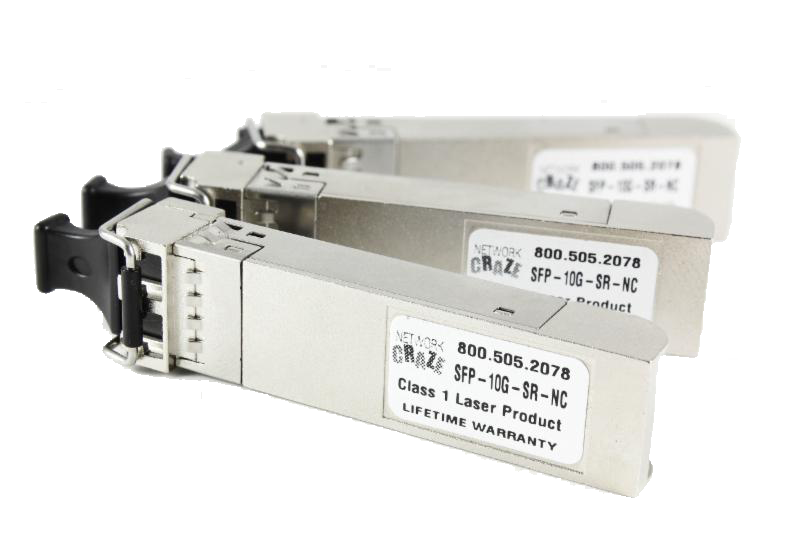 3 1/2 THINGS YOU NEED TO KNOW ABOUT COMPATIBLE SFPS
As the cost of technology continues to rise, IT pros are constantly looking for ways to optimize their budgets. Many have found using compatible SFPs as a great way to help decrease costs while maintaining reliability.
Here are the 3 ½ things you need to know about compatible SFPs:
1 It's the same thing!
The fact is Cisco, Juniper, HP, Avaya and Brocade do not even make their own SFPs. At Network Craze we purchase from the same companies that produce them for the manufacturers. Our 1- 10- and 40-Gig Compatible SFPs come from the same factories and meet the all the same quality standards for fit, form and function. They are guaranteed to be compatible — because they are the same thing! What this means is you get the same product, just a different sticker. <?p>
2 Crazy Savings!
SFP costs can be a significant portion of your IT budget. Our Compatible SFPs can reduce your costs by 50%-70%. Think about that. How many SFPs per year do you need to buy? I am sure you could find something else to spend that money on. Oh, and how great will you look to the bean counters? Don't pay for a name on the sticker… It would be CRAZY to pay full price!
3 Lifetime Warranty!
Unlike manufacturer's warranties, our Compatible SFPs come with a Lifetime Advance Replacement Warranty. Our name and number is on every SFP so you can rest assured that you can call us day or night should you need a replacement.
3½ Worry Free Guarantee! (Shameless Plug)
Try our SFPs today! If you don't like them for any reason, return them for a no questions asked full refund!