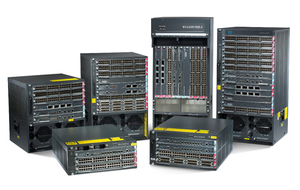 WHY IT'S TIME TO CONSIDER REFURBISHED NETWORK HARDWARE
With mounting expenses facing an IT department daily—in the form of security and equipment costs—finding solutions that not only yield productivity but come with cost savings as well is a big problem for your IT department. So, as your company begins evaluating ways to shave costs in 2021, consider refurbished network hardware—which is both cost-effective and reliable.
In fact, many IT leaders are increasingly realizing that purchasing refurbished network hardware and equipment brings a considerable amount of benefits to their organizations; with hardware spending likely to drop in 2021—according to Computerworld's annual survey of IT executives—company leaders should consider a lower-cost refurbished solution.
For some organizations, buying brand-new, off-the-shelf equipment is simply the way they have done it for years. But for other companies seeking reliable network equipment at a lower cost, refurbished hardware can be the answer if the solution is refurbished properly and re-serviced with a warranty.
Before you run to a provider that only sells new, consider the competitive advantages of investing in a refurbished network hardware solution:
Slash CAPEX spend: Your bottom line is what's most important to your business. That's why so many companies are turning to a distributor that sells pre-owned, reliable network hardware at the fraction of the price of untouched equipment. For instance, at Network Craze, all of the products we sell are of the highest standards with guaranteed reliability. If for any reason a customer is unhappy with a purchase, he or she can return the order for a full exchange or refund. In other words, you'll never get trapped with a network solution that doesn't sufficiently meet your core business needs.
Acquire your hardware quickly: Imagine if your switch or router suddenly goes down. Your first step would be to immediately contact the manufacturer, right? Now imagine hearing they're backordered on new hardware. That's a nightmare scenario as your organization will experience extended downtime, which will result in lost business for your company. Conversely, a hardware reseller boasts an expansive inventory of robust refurbished equipment, which can be shipped at any time.
At Network Craze, we take pride in being the source for refurbished networking hardware. We provide the ideal trio of a lifetime warranty, outstanding technical support and customer service. Our team is always one phone call away to help.
Whether your chief decision makers want to go with the brand new hardware or consider the refurbished route, we can assist and advise businesses of all sizes and specialties to identify what solution will satisfy their needs—and budget—best.